UX Analytics - The book
An idea for a book to help designers and product managers make informed descisions - Designing with analytics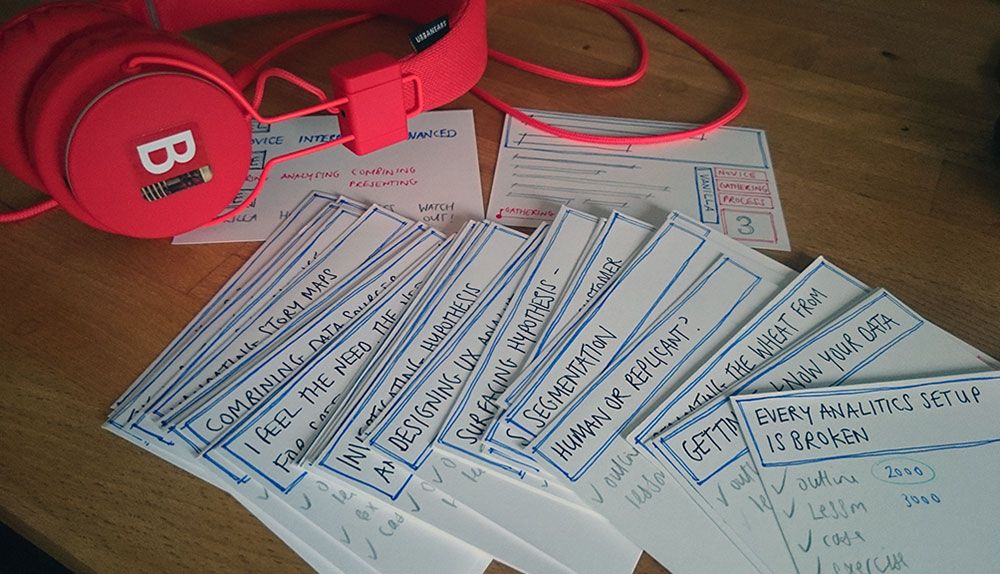 Update September 2023: I didn't find the time or method to get this over the line. Now 6 years have passed since I tried, and 8 since I started. Time to close this chapter, reframe and move on.
I'm writing a book. It's for UX practitioners and Product Managers who want to learn how to make informed decisions about the design of websites, products or services based on research using web analytics data – Designing with Analytics.
Progress so far
41733 Words
209 Minutes reading time
Still on the first draft. Wasn't happy with the order of things, so I've been re-working the structure. Main content well on its way for all chapters (2017-06-21)
Web analytics for UX practitioners
Like many of you, I don't work full-time with web analytics but it's a vital research tool I use during my work.
The book, UX Analytics, will help you make more sense of web analytics as a UX-er and guide you through the routines you may need during your research as well as those that are essential. It will help you slice and dice your data, surface insights and build hypotheses.
It will also explain how to build analytics and data collection into your designs so you can continuously learn about, question, and improve the user experience.
We will look at data gathering, analysing, combining as well as communicating your insights.
Chapters
Introduction
1 – Analytics crash course
2 – PACE web analytics framework
PART ONE – Preparation
3 – Setting the scene – producing the backstory
4 – Checking your analytics data
5 – Getting to know your data
6 – Locating the valuable data
7 – How your data represents people
8 – Making notes during your analysis
9 – Starting your analysis
PART TWO – Analysis and interpretation
10 – Choosing time periods
11 – Data segmentation
12 – Pitfalls and Gotchas
13 – Page speed data
14 – Population size and significance- when it matters
15 – Regular expressions
16 – Framing the journey
17 – Surfacing hypotheses
18 – Investigating and validating hypotheses and claims
PART THREE: Communicate and evolve
19 – Communicating your findings
20 – Creating analytics personas
21 – Designing UX analytics
22 – Usability testing, user interviews and contextual inquiries
23 – Analytics, agile and lean
24 – Business analytics